HOW WOMEN OVER 40 ARE DROPPING STUBBORN BODY FAT, ERASING THEIR STRESS, AND FIGHTING BACK AGAINST MENOPAUSE IN AS LITTLE AS 20-MINUTES A DAY…
Life in your 40s, 50s, And 60s Can Be Your Happiest And Healthiest Years Yet — And You Can Do It Without Extreme Diets, Exercise Programs, Or Expensive Supplements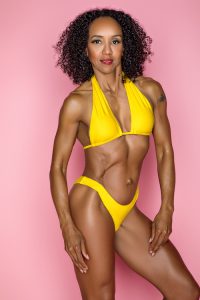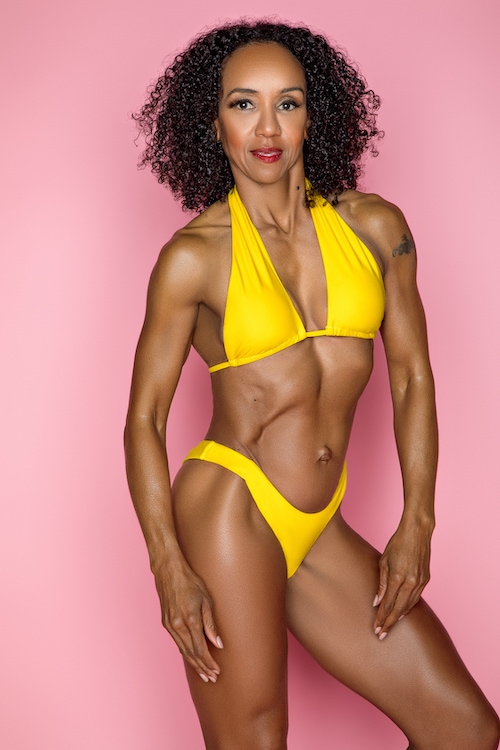 From The Desk Of:
Melissa Neill
55-Year-Old Body Transformation And Weight Loss Expert
Hey Sister,
I know you're busy.
I know you're sick to death of feeling exhausted…
And I know you're frustrated that no matter what you try…
It feels like you'll never lose weight, or get the strong, healthy body you want…
All because it feels like your hormones, age, and metabolism are working against you.
I know because these are all things I struggled with myself.
That's why I'm sharing potentially life-changing information with you on this page.
How thousands of women aged 40+... with next to no spare time… are melting away years of stubborn body fat from their belly, love handles, thighs, and everywhere else on their body.
If you're anything like me and the women I help, I'm willing to bet one thing is true.
Your body is changing in ways you never imagined…
On the outside, your body might've become softer and lumpier than it's ever been…
Or perhaps your muscles are even starting to droop.
On the inside, you're starting to feel like a stranger in your own body.
Your mood may be a little up and down — or maybe you feel more like Jekyll and Hyde.
And if you're anything like I was…
Food is always on your mind.
Cravings for something sweet, salty, or deep-fried feel almost impossible to resist.
Sure, you might be able to stick to "healthy" eating for a while…
But it's not long until you have a stressful day at work…
You order take out…
Put on Netflix…
And before you know it, you're staring at the bottom of a tub of ice cream.
Does ANYTHING I just said sound familiar?
If so, I want you to know you're in the right place…
Because as you'll soon see, I know exactly what you're going through.
The good news is, I'm going to share with you why nothing you've tried works in the long term…
And how you can quickly and easily turn your 40s, 50s, and beyond into the most amazing, healthiest, and happiest years of your life.
No BS.
Soon, you'll see how to feel confident and comfortable in your own skin…
Wearing the clothes you WANT to wear…
Not the ones you feel you have to wear to hide your body.
Your brain will become sharper, and your energy levels recharge…
Allowing you to be present for yourself, your family, and your work.
And if you want to, you could even feel confident enough in your body to wear a bikini…
Because I've got news for you…
You Are Not Past Your Prime… You Are Not Invisible… And You Are Worthy Of Happiness
And I know this might sound hard to believe…
But you can actually get into the best shape of your life without:
As you'll see on this page, what I'm about to share has worked for hundreds of women — from all backgrounds and abilities. 
And it will work for you too.
That sounds like some big promises, right?
I get it.
So instead of me doing all the talking…
Here's What Others Are Saying About What I'm Sharing Today
This is just a handful of the women I've helped.
You'll soon see how you can get results like these women too.
But before that, allow me to introduce myself…
Cancel Any Time | 30-Day Money Back Guarantee
From Divorced, Depressed, And Destined For Health Issues… To Getting A Year-Round "Bikini Body" In My 50s (And Loving My Life!)
Hi, I'm Melissa Neill.
The first thing you need to know about me is I'm far from perfect.
The truth is, it wasn't that long ago I was out of shape, drinking heavily, and about to go through a very messy divorce.
I was ruining my life and my health…
… and I didn't even know it.
I have no doubt in my mind that If I'd carried on down that path, I'd be severely overweight…
Depressed…
And riddled with health issues like diabetes and heart disease.
The person I was 6 years ago is a different person to the woman I am today.
But I'm also living proof that it's NEVER too late to create the best version of yourself.
I turned my life around in my late forties and early fifties.
After a chance encounter with a friend who introduced me to the world of fitness…
I discovered a simple, sustainable, and enjoyable way for women our age to get in shape and stay in shape.
And now I'm helping thousands of women do the same.
The women I help don't just lose weight either.
They learn to love their body…
And handle the changes they experience during and after menopause.
The result?
They feel more content, healthy, and happy than they have in years.
Many rebuild a stronger, healthier relationship with food that allows them to enjoy lifelong results — without depriving themselves of delicious foods…
Even when they've struggled with their weight and eating for years…
They've always put the needs of others in front of their own…
Or they feel like their best years are behind them…
Because let me tell you, girl…
I Know Firsthand That Your Best Years Are Ahead Of You
I refuse to let anyone tell me otherwise!
Which is why I'm here for women that have so much more to offer to the world…
But have never been shown the right way to take control of their weight, body, and mind.
My breakthrough methods will help you do just that.
Over 4000 women have used my unique methods…
And the result they get to fill my heart with joy.
Now you might look at those transformations and think they had to work hard to get those results.
Perhaps those results even feel impossible to you.
And I'm not going to sugarcoat things…
They did do some hard work.
BUT…
They also did things in the safest, most enjoyable, and most sustainable way possible.
Results like this aren't just possible…
They will happen…
When you follow my methods, specifically designed for women aged 40+.
And you can do it all without…
Because with my unique methods, none of those things are needed.
In fact, those things are the worst things you can do…
You see many women are making a huge mistake…
And it's stopping them from ever getting the body they deserve…
Which is why I want you to know something important…
Cancel Any Time | 30-Day Money Back Guarantee
None of this is your fault
I'm the first person to call out BS.
If I thought for a second you were causing your own problems — I'd tell you.
That's just who I am.
But the truth is, you're currently in the middle of the storm that's working against you.
First
Your body is going through huge, sometimes scary changes.
Things don't work like they used to.
Your hormones are all over the place…
And your metabolism has likely come to a grinding halt.
You might even feel like a stranger in your own body.
I know I did at one point.
You can thank menopause for most of those things.
But as you'll see in a moment, it's not all doom and gloom.
Second
Like many of us, you're likely overworked and stressed with your career, family commitments, and lifestyle.
Living under stress is a quick way to skyrocket stress hormones.
And stress hormones make fat cling to your body like a magnet.
Stress also causes conditions like high blood pressure, and leaves you feeling physically and emotionally drained.
Escaping stress, especially with the pressure of work and family life can feel impossible.
Third
Whenever you do try to get into shape, you're being let down.
96% of all diets fail women.
They're simply too restrictive, which is why the average woman will try and fail 126 diets.
Not only that, but most exercise programs aren't made for you and me…
… they're made for women in their 20s.
And I hate to break it to you, but…
What Worked In Our 20s And 30s Won't Work Today
Our body, hormones, and metabolism are different now.
Our circumstances are different.
Our whole life is different.
So it makes sense that we need to take a different approach – if we want to actually lose weight and improve our health, for good.
We need something that considers the unique and challenging changes our bodies are going through…
Something we can stick to forever without it feeling like a chore…
Something that'll give us real results into our 40s, 50s, 60s, and beyond…
Something that fills us with happiness and confidence.
The truth is…
If you don't address the changes your body has been through, or is going through…
If you don't address your stress and work/life balance
And if you don't change your approach to getting into shape and nutrition…
You might as well be burying your head in the sand…
And things are likely to keep getting worse.
Look, I don't know EXACTLY what you're going through…
But I know we have a lot in common.
And my body certainly behaves very differently from when I was in my 20s.
But that doesn't mean you can't live a happier, healthier life.
That's why I'm excited to introduce you to…
Cancel Any Time | 30-Day Money Back Guarantee
The all-in-one program designed to help women in their 40s, 50s, and 60s get into stunning shape…
While improving their health, metabolism, and hormones.
After helping thousands of women, I know they need a program created by someone who understands the changes and challenges they face…
And that's exactly what The Strong Women Club gives you…
… all delivered via a super easy-to-use app.
The program and app are like having access to me and my team in the palm of your hand…
24/7…
No matter where you are.
And it's so simple to use!
With just a few taps you can access what you need when you need it.
The best part?
You don't need to join a gym if you don't want to.
The Strong Woman Club includes all types of workouts.
So whether you want to workout at home or the gym — we've got you covered.
In The Strong Woman Club You'll Discover
Inside The Strong Woman Club You Have Everything You Need To Succeed
Use my breakthrough "Over40" method to achieve REAL fat loss

Workout from home or the gym – you're in control

Discover how to lose pounds of stubborn fat and keep it off 

Track and monitor progress to keep you motivated and on track
Take the guesswork out of what to eat and when!

Enjoy delicious, quick, and easy meals that fuel your body and mind after 40

Burn through stubborn fat stores while eating delicious food, with these simple diet secrets

Bonus: Enjoy seasonal recipes so you and your family can eat healthy and mouthwatering food any time of year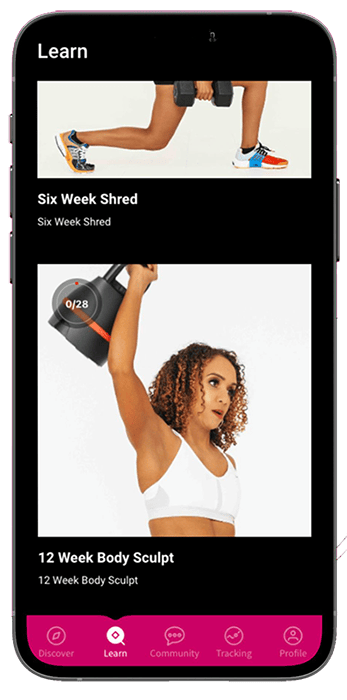 Take the guesswork out of what to eat and when!

Enjoy delicious, quick, and easy meals that fuel your body and mind after 40

Burn through stubborn fat stores while eating delicious food, with these simple diet secrets

Bonus: Enjoy seasonal recipes so you and your family can eat healthy and mouthwatering food any time of year
Bonus #1 Weekly group coaching calls via Facebook live for accountability, feedback, and tips (Value $499)
Bonus #2 Workshop on how to calculate your calories and macros so you can create your own meals and food plans — and choose the foods you enjoy while quitting dieting for good (Value $99)
Bonus #3 Join an online community of like-minded women to get accountability, motivation, or simply enjoy a safe place to vent! (Value $399)
Regular price

$1,944
The content inside The Strong Woman Club is delivered via an app and a private Facebook group. You'll get an invitation to join both the moment you join.
This is a monthly subscription you can cancel at any time.
Cancel Any Time | 30-Day Money Back Guarantee
You're Moments Away From Enjoying Your Happiest And Healthiest Years Ever…
A life where you feel in control of your body and mind…
Where you enjoy true happiness, fulfillment, and a stress-free day, every day…
And you enjoy more energy, drive, and motivation than ever before.
Imagine your family, friends, and coworkers' faces when they see the new, stronger, healthier version of you….
A woman who's capable of achieving her full potential — without letting age be a barrier.
And imagine how amazing it would feel to not worry about your health, and things like diabetes, heart disease, or Osteoporosis.
With The Strong Woman Club, you're giving yourself everything you need to do all of that — with the healthy body and mind you deserve.
And you do deserve it.
Because once you experience the positive changes The Strong Woman Club will give you…
You'll finally feel like the best version of yourself.
A woman who's both confident within herself…
And confident with those around her.
Relationships will improve.
You'll enjoy more YOU time without feeling guilty.
Heck, you might even pluck up the courage to ask for a well-deserved raise at work or fire a problem client (depending on what you do for work)…
Or maybe at the least, you wake up each day feeling GOOD in your own skin.
I believe you can't put a price on those things.
But let me ask you…
What Would It Be Worth To You If You Could Take Back Control Of Your Weight And Health?
Because if that means nothing to you…
And you want to continue as you are…
Then it's time for us to part ways.
But if you're up for making positive changes that can last a lifetime…
To finally drop decades worth of stubborn fat from every part of your body that bugs you…
To LOVE the woman you see in the mirror…
And restore unshakeable levels of confidence…
Then tap the button below and let's get started!

I had the pleasure of being a part of your belly fat boot camp last year. The training was life changing in that I learned a great deal about macros and how to plan my meals accordingly. I dropped about 6 pounds during that time and lost a few inches all over. More importantly, I was overcoming years of chronic pain in my back and joints and felt stronger and more confident than I had in years.

Your program made me realize where I was at as a woman and what I needed to do to get to being fit and healthy. Before your program I would intermittently fast which didn't seem to work all I did was gain weight. I have since then increased my protein and started eating more regularly and I am seeing some progress.

I struggle with several autoimmune diseases which caused me to gain weight in spite of exercising and eating low calorie. I liked the fact that Melissa featured plant based protein. Even with all of that going on, I saw results using the Lean and Strong 12 week program! It really gave me the boost that I needed in my metabolism because I wasn't doing a boatload of cardio! I started fitting into clothes that I couldn't zip or button!

I've been following Melissa for a couple of years now and can say that her 6-week shred program is perfect for beginners. I always felt challenged but not overwhelmed, and the workouts are super varied so I never got bored. I would recommend this program for women in their 40s who are interested in weight training as it's really made for us!

I recently started the high protein meal plan and am on week 3. It's so fun to try all the recipes and suggestions you give. I LOVE ALL of your videos b/c they are inspiring, uplifting, hopeful and extremely motivating to continue my fitness journey.

I started to gain weight when entering menopause. I struggled to wrap my head around the fact that I was gaining weight instead of losing it and was quite discouraged. Then I found you and your Strong Woman Club and things started to change. Now I love working out and gaining knowledge about my body, hormones, and meal planning. I love your teaching style and your straightforward personality and it has inspired me so much.

I bought the programme and was super excited to read more and get started. I love how I was taken on a health journey, step by step. From the introduction, I was guided in a nutshell how to use the app to get the best results. Melissa's programmes are priceless for the results that can be achieved.

I purchased the lean and strong and high protein program and was amazed at all the lovely things I could eat. No longer a "get on a diet" mindset but more of a "this is my life and I want to live it fully" mindset.
The moment you join, you'll get links to download the app and join the private Facebook support group (check your Spam folder if these aren't in your inbox).
You'll watch a handful of super quick onboarding videos inside the app, so you can find exactly what you're looking for.
Then spend as little as 20 minutes a day following the plan…
And in a matter of weeks, you could lose pounds of nagging fat…
Restore your energy and confidence…
And fit back into the clothes that have been buried in the back of your closet for years.
Each month, you'll get fresh new content to help you take control of your body and mind for the rest of your life.
From the moment you join, you're treated as one of the family…
You become part of a highly exclusive and tight-knit sisterhood.
It's like having a second family to support you — without any judgment, stress, or drama.
You'll get support and accountability in abundance…
And access to a wealth of knowledge, help, and tools to help you navigate anything you face…
… all from your phone.
Cancel Any Time | 30-Day Money Back Guarantee
You've Got A FULL 30-Days To Try The Strong Woman Club 100% Risk-Free. If It's Not For You — Simply Request A Refund
That's my unbreakable 30-day money-back promise to you.
If you're not satisfied in any way, simply let me know within the first 30 days, and I'll refund your money.
But there are a couple of things to note first.
You see, while results are quick and easy — they don't happen overnight or with zero effort.
So if you're thinking of joining up and then putting in no work, please do not sign up today — as you won't be covered by the guarantee.
The program is designed for time-poor, busy women aged 40+.
It's simple, effective, and quick.
But it's not magic.
You have to at least TRY the simple things I outline in the program.
If they don't work for you, or you don't enjoy them — then let me know within 30 days, and I'll issue you a full refund
Cancel Any Time | 30-Day Money Back Guarantee
Here's A Quick Recap Of Everything You Get When You Subscribe To The Strong Woman Club
Cancel Any Time | 30-Day Money Back Guarantee
The content inside The Strong Woman Club is delivered via an app and a private Facebook group. You'll get an invitation to join both the moment you join.
This is a monthly subscription you can cancel at any time.
Still Undecided?
It's Crunch Time...
You've read this far — so I can tell that living a happier, healthier life is super valuable to you.
But the truth is, right now you're at a fork in the road.
And I'm curious — which path will you choose?
Path 1
Simply put, you disregard everything you've read today…
And you ignore all the amazing transformations and testimonials from real women I've shared with you.
Instead, you carry on as you are.
Perhaps you try yet another diet and fitness program…
And maybe you get good results — I honestly hope you do.
But to be real with you…
The chances of that are slim.
And in the end, there's a much higher chance you'll feel let down and disheartened yet again.
Not to mention the risk that things get worse for you…
And your body keeps working against you.
You become more exhausted…
The pounds pile on…
And you kick yourself for not joining today when you saw what was possible on this page.
It breaks my heart to think that anyone would choose this path…
But I respect your decision and truly wish you all the good luck in the world.
Path 2
You click the button below to join The Strong Woman club…
And it turns out to be the BEST decision you could possibly make at this point in your life!
From the moment you join, you're taking huge leaps toward having the body, mind, and health you desire.
You'll get everything you need to get results for life…
And everything is simple, fun, and sustainable!
Within weeks you'll notice your body getting firmer…
Your waist shrinking…
And your mood improving.
Months down the line, you'll look and feel like a totally different woman…
A woman that glows with positive energy…
A woman who's stronger and slimmer than she's been in years…
And a woman who's in full control of her relationship with food and health.
Your only regret will be not knowing about this sooner!
And remember…
There's zero risk in joining, because you're covered by my 30-day money-back guarantee!
Tap the button below to get started today.
I can't wait to meet you on the other side!
Cancel Any Time | 30-Day Money Back Guarantee
Answers To The Most Frequently Asked Questions